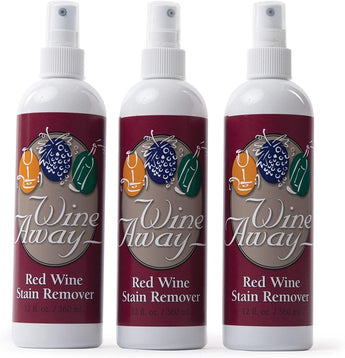 Wine Away Red Wine Stain Remover Spray - Natural Carpet and Upholstery Spot Cleaner - Effectively Removes Blood, Clothes, Coffee, & Pet Stains - Best on Both Fresh & Dried Stains - 12 Oz - Pack of 3
Regular price $32.00 Sale
Wine Away Red Wine Stain Remover Spray - Natural Carpet and Upholstery Spot Cleaner - Effectively Removes Blood, Clothes, Coffee, & Pet Stains - Best on Both Fresh & Dried Stains - 12 Oz - Pack of 3
🍷 EFFECTIVE: Makes tough and stubborn stains disappear such as red wine, blood, ink, and even pet stains. It removes the most common stains from fabric, upholstery, and carpets. You will surely be amazed as it works well on both fresh and dried stains.
🍷 NATURAL: This stain remover is made from fruit and vegetable extracts and has a fresh citrus scent making it suitable to use even with children and pets around. It is non-flammable, biodegradable, and contains no phosphates or bleach.
🍷 PERFECT FOR ANY OCCASION - Even when you're at a party, attending a wedding, or even a night out with your peers at work, this can be your go-to friend that will help you when faced spilling scenes or dealing with embarrassing moments.
🍷 BENEFICIAL TIP: If stain turns bluish color, treat the stain with Wine Away and laundry pre-wash, then launder as directed.
🍷 INCLUDES: 3 pcs of Spray Bottle of Wine Away Red Wine Stain Remover (12 oz).
Whatsapp