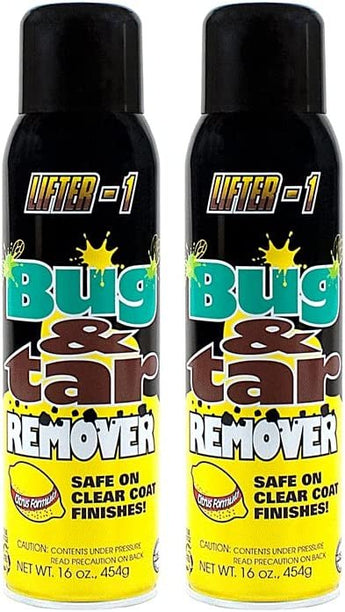 Lifter-1 Bug and Tar Remover-16oz. 2/pack-Removers Tough Bugs and Tar from Automobiles
Regular price $19.00 Sale
Safely cleans tough road tar and bug from automotive paint finishes. Easily removes the toughest road tar, tree sap and bugs from your auto's finish Unique citrus-based formula is safe on clear-coat finishes Contains no kerosene Just spray on, wait 30 seconds, rub area with a clean cloth, and rinse with water Safely cleans sticky deposits from : Windows, Bumpers, Auto Grills, Wheel Covers, Chrome, Headlights
CITRUS FORMULA and contains no kerosene: Safely cleans the toughest road tar, tree sap and bugs from automotive paint finishes.
A VARIETY OF USES: This product is formulated for cleaning bugs, tar, and other hard to clean deposits from windows, bumpers, grills, paint, chrome, wheel covers, headlights.
QUICK & SIMPLE: Just spray Bug & Tar on the surface to be cleaned, wait 30 seconds, rub the area with clean cloth and rinse with water.
SAFE ON CLEAR COAT FINISHES: This citrus based product is safe on all factory paint and clear coat finishes. It contains no kerosene or petroleum distillates.
DIRECTIONS – 1) Cool surface with water if hot to the touch. 2) Spray generously directly on surface to be cleaned and wait 30 seconds. 3) Firmly rub unwanted bug and tar stains with clean cloth or sponge, rinse thoroughly with water. 4) Repeat steps 2 and 3 if necessary.
Whatsapp