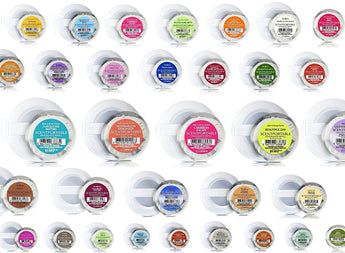 Bath & Body Works - Scentportable Grab Bag - Assorted Bundle of FOUR (4) Scentportable Refills
Regular price $15.90 Sale
Buyers receive 4 assorted Scentportable Refills in all -- scents are chosen at random. Large variety of scents available -- may include either discontinued or current fragrances. Please note: NOT EVERY SCENT PICTURED IS INCLUDED or available all year long -- scent availability will depend upon time of year. Each scentportable refill lasts several weeks - rotate the fragrances in this assortment to keep the scents in your home, office, and car fresh and new all the time. (Scentportable holders are sold separately - you receive scentportable refills only - not holders.)
You receive 4 randomly chosen Scentportable Refill Discs in all -- large variety of scents available! (more details in description below)
With this bundle of 4 assorted Scentportables you can spread true-to-life fragrance and lasting freshness in your car, office, and every room in your home.
Each scentportable refill lasts up to six weeks - rotate the fragrances in this assortment to keep the scents in your home, office, and car fresh and new all the time.
Combine with any Scentportable holder that fits your style and enjoy noticeable freshness for weeks and weeks.
You receive 4 scentportable refills in all - at a great price!
Whatsapp