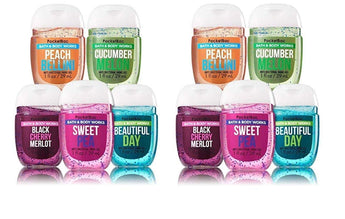 Bath & Body Works - 'Fresh Picks' Pocketbac Bundle of 5 Antibacterial Hand Sanitizer Gels
Regular price $28.95 Sale
These miniature must-haves contain natural ingredients, like Tahitian Palm Milk, and powerful germ killers that keep hands fresh and clean on-the-go with your fave fragrances. \"Classic Faves\" Pocketbac Bundle includes one bottle of each of the following scents: Peach Bellini, Black Cherry Merlot, Beautiful Day, Limoncello, and Cucumber Melon. Each bottle of hand sanitizer is 1 fluid ounce.
10-pack of Bath and Body Works Pocketbac Hand Sanitizers 'Classic Faves' Bundle
Set includes Two 1 oz bottle each of Most favorite flavors. Ten of our most-loved fragrances in one great bundle.
2 Peach Bellini, 2 Black Cherry Merlot.
2 Cucumber Melon and 2 Beautiful Day.
2 Sweet Pea.
Whatsapp