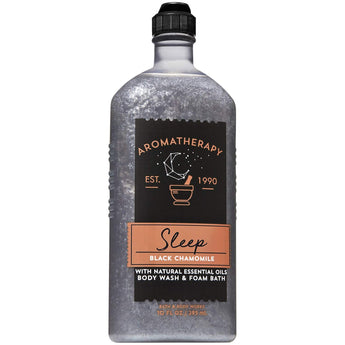 Bath and Body Works Aromatherapy Sleep - Black Chamomile Body Wash and Foam Bath 10 Fluid Ounce
Regular price $12.86 Sale
FRAGRANCE Chamomile Oil calms the mind & body. Bergamot Oil creates a sense of well-being. OVERVIEW This fast-foaming body wash with conditioning aloe & bamboo extract gently cleanses to leave skin clean without over drying. An aromatherapy blend of essential oils & natural ingredients benefits body, mind & mood. USAGE Add a drop to wet sponge and massage into lather. Rinse. For a bubbly bath, add a couple ounces to running water. MORE INFO Aromatherapy Tip: Use in shower or bath before bedtime to ease your mind. Breathe deeply for best results. Facebook Twitter Instagram Pinterest
Chamomile Oil calms the mind & body. Bergamot Oil creates a sense of well-being.
This fast-foaming body wash with conditioning aloe & bamboo extract gently cleanses to leave skin clean without over drying.
An aromatherapy blend of essential oils & natural ingredients benefits body, mind & mood.
Add a drop to wet sponge and massage into lather. Rinse. For a bubbly bath, add a couple ounces to running water.
Whatsapp