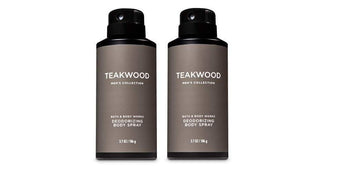 Bath and Body Works 2 Pack Men's Collection Deodorizing Body Spray. Teakwood. 3.7 Oz
Regular price $35.97 Sale
Use in the morning, after the gym or to refresh yourself throughout the day.
EARTH WITHIN YOUR SOUL. Wander along the forest and feel the earthy vibe.
FEEL STRONG. Channel your inner macho with the unforgettable, masculine scent.
BE DYNAMIC. A mix of fragrance and deodorizing protection. Perfect for post-workout spray.
DIVERSITY IN FRAGRANCE. Its earthy vibe and lavender makes it compatible for men and women.
PERFECT PRESENT. A gift idea for people of all ages. Feel peace in fragrance and embrace of nature.
Whatsapp